Key steps based on Desktop Central's comprehensive approach
The Fourth Industrial Revolution has changed the landscape of business operations around the world. Business leaders have come to recognize the power of embracing digitally enabled ways of working and the competitive edge that Industry 4.0 can impart to their companies' operations and output. Here is where the charting of the digital transformation strategy, starts.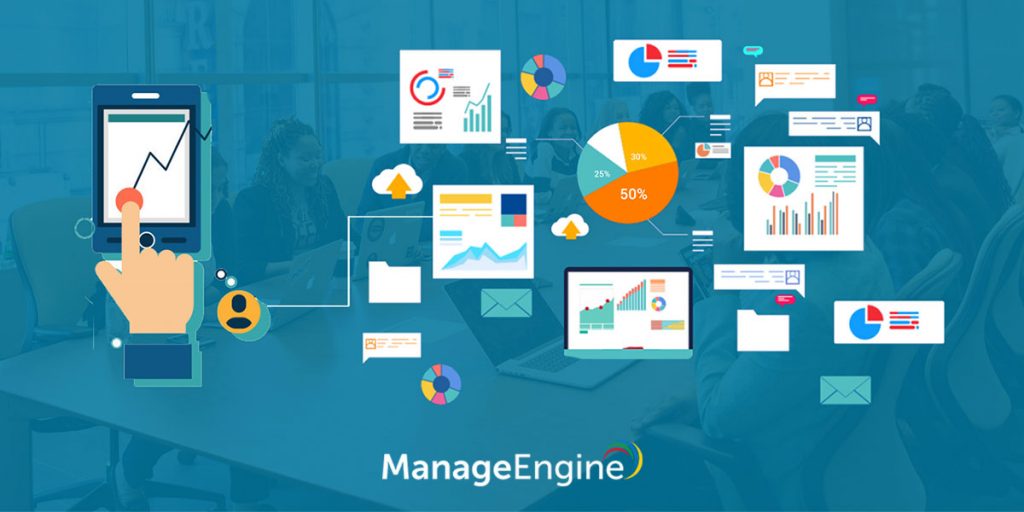 What is not clear to many business leaders is what digital transformation means. Is it just a catchy way to say moving to the cloud? What are the specific steps they need to take? Do they need to design new jobs to help them create a digital transformation framework or hire a consulting service? What parts of their business need to change? Is it really worth it?
Taking digital initiatives
Most companies are striving to become digitally transformed, business applications are moving to the cloud, and day-to-day IT operations are becoming more mobile-oriented with executives using a diversified range of devices. Employees do not just use company-provided desktops; they often work on the go with corporate-owned, personally enabled (COPE) laptops, mobile devices, and iPads; bring your own device (BYOD); etc.
With this diversity in mind, IT departments need to provide hassle-free management of both corporate and personal devices. IT administration needs to be location agnostic, provide round-the-clock services, and enable employees to use their own devices for work. Unified Endpoint Management (UEM) allows user-based access, authentication, and authorization that enables employees to use authorized devices and access approved applications. An IT admin's job is easier and more efficient, resolving 5 "Ws" by using UEM:
Who can access the endpoints—defining access privileges based on user type.
What devices are being used in the environment—local, remote offices, and roaming devices.
When the management policies need to be applied.
Where are the managed devices present, aka device tracking.
Which applications need to be managed, and the security configurations around these applications.
Desktop Central from ManageEngine, the IT division of Zoho is an award-winning unified endpoint management solution that augments a traditional desktop management service, offering more depth and customization. It helps in managing servers, laptops, desktops, smartphones, and tablets from a central location, ensuring 360-degree endpoint management and security of the IT network.
Embrace unified endpoint management the SaaS way!
Desktop Central has always gone the extra mile to resolve IT administrators' issues, allowing a level of visibility across infrastructure like never before. It addresses UEM challenges through well-designed modules, so you are able to manage, monitor, maintain and action all elements of your environment from a single console. But what is the value that UEM delivers in digital upgradation of enterprises' IT administration? Well, take a look:
A single, unified console for management
With a UEM solution, you can enroll all devices under a single umbrella, and manage and secure them from a single, unified console. There is no need to deploy multiple solutions; UEM helps you accomplish client management actions, as well as enterprise mobility management actions.
Overcoming the challenges in device management:
There are various types of mobility devices in an enterprise. A UEM solution helps overcome the challenges in handling them all, including:
Manage roaming devices remotely: Mobile devices or laptops of employees who travel can be managed by UEM solutions via a public IP address.
Devices that connect to enterprise networks remotely: UEM helps manage devices connected to enterprise networks from any location, via a VPN or even through a remote session.
Lost or stolen devices: With a UEM solution, you can track stolen devices and enable data wipe to ensure that your data is safe.
Devices connected within the organization: All endpoints—mobile, laptops, desktops, servers, IoT, wearables, rugged devices, etc. that the organization employs—can be managed from a single UEM console.
User owned mobile devices: BYOD trends started a few years ago and are gaining prominence today. IT admins may find it challenging to allow and deny access to applications and data within the organization; UEM helps you create tailor-made policies to separate corporate and personal profiles, as well as manage confidential data accordingly.
Endpoint management and security go hand-in-hand:
Endpoint security is an inherent element in UEM. By enabling secure access to users, devices, and applications, you can eliminate security compromises. Additionally, UEM capabilities, such as single sign-on (SSO) and certificate authentication, eliminate the need for keying in credentials more than one time in a single session.
On-the-go management
Using UEM, you can manage devices irrespective of their physical location, which means you can monitor all security and endpoint administrative configurations from your centralized location.
A unique and on top of the endpoint management ladder UEM solution
ManageEngine's Desktop Central manages over 7 million endpoints with a happy customer base of 12,000+ organizations. There are over 85% of customers who renew the product annually. This is the number of satisfied customers who continue to trust ManageEngine's credibility and Desktop Central's capabilities. With a complete endpoint management and security solution in place, rest assured that the Desktop Central will watch over all the endpoints in the Enterprise.